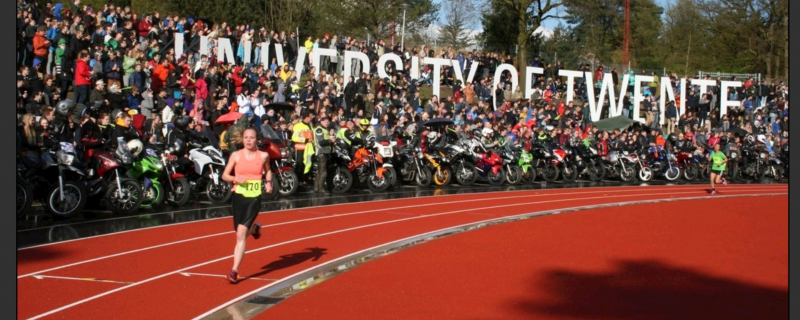 Gepost op: 02-04-2022
Lieve Punchers,
Dit jaar zal de 50e editie van de Batavierenrace plaatsvinden! De Batavierenrace is de grootste estafetteloop van de wereld, waarbij deelnemers jaarlijks van Nijmegen naar Enschede lopen. Dit festijn wordt afgesloten met het grootste studentenfeest van de Benelux, het Batavierenfeest. Dit is een feest is gratis en toegankelijk voor iedere student!
Deze speciale editie zal op 29 en 30 april gehouden worden. En hoe kan het ook anders, Punch is van de partij! De BaKo is druk bezig met de organisatie van dit weekend en zal binnenkort haar thema bekend maken. Mocht je interesse hebben om mee te doen, join dan de whatsapp groep via deze link en kom een keer op dinsdagavond om 6 uur met ons mee trainen! Wanneer je helemaal overtuigd bent en samen met ons mee wil doen, schrijf je dan in via deze form! De kosten voor het meedoen aan dit evenement zullen maximaal 50 euro bedragen.
Mocht je meer willen weten over de Batavierenrace zelf bezoek dan even de site van de batavierenrace of lees hieronder verder! Bij vragen kan je altijd terecht bij de BaKo! 
Wij hebben er in ieder geval ontzettend veel zin in en hopen je bij een van de trainingen te zien!
Liefs, BaKo '21-'22 
Verdere informatie Batavierenrace: 
In 1972 kwamen enkele Nijmeegse studenten zo enthousiast terug van een estafetteloop in Zweden, dat ze een dergelijk evenement ook in Nederland wilden organiseren. In navolging van de Batavieren, die in 50 voor Christus op vlotten de Rijn afzakten, werd voor de Batavierenrace dezelfde route gekozen: van Nijmegen naar Rotterdam. In 1973 namen zo'n 600 studenten deel aan de eerste Batavierenrace. Aan deze eerste race dankt de Batavierenrace haar naam, maar vanwege infrastructurele problemen is het traject verplaatst. Sinds 1974 lopen de atleten vanaf het Universitair Sportcentrum Nijmegen, via Duitsland en de rustieke Achterhoek naar de campus van de Universiteit Twente. Op enkele kleine wijzigingen na, is de route vanaf 1974 vrijwel gelijk gebleven.
In april of mei klinkt nu jaarlijks het startschot voor de grootste estafetteloop van de wereld: de Batavierenrace. De 50e editie van de Batavierenrace zal van start gaan op vrijdagavond 29 april 2022. De route loopt van het centrum van Nijmegen, via Duitsland, de rustige Achterhoek en de Oude Markt in hartje Enschede naar de campus van de Universiteit Twente.
De totale loopafstand bedraagt ruim 175 kilometer en is onderverdeeld in 25 etappes (16 heren- en 9 damesetappes). Er nemen ieder jaar ongeveer 8.500 atleten aan deel, allen studenten; aan dit enorme deelnemersaantal dankt de Batavierenrace sinds jaar en dag haar vermelding in het Guinness Book of Records.
Kortom, een jaarlijks terugkerend mammoetevenement met een uniek karakter: een mengeling van topsport en zwoegend recreëren!
De Batavierenrace is de laatste jaren, zeker in de studentenwereld, maar ook daarbuiten, een begrip geworden. De Batavierenrace is dan ook een uniek en ludiek evenement, dat het verdient om in de kijker te staan. In voorgaande jaren werden reportages over de Batavierenrace bijvoorbeeld uitgezonden door regionale en nationale radio- en televisieomroepen en jaarlijks staat de race onder andere in De Gelderlander en vele andere gedrukte media.
Verdere informatie Batavierenfeest: 
Na de finish van de Batavierenrace rond 18:00 uur volgt jaarlijks het grootste studentenfeest van de Benelux op de campus van Universiteit Twente in Enschede. Naar schatting zijn er 13.000 studenten die op verschillende locaties van de campus uit hun dak gaan! Dit feest is vrij toegankelijk voor iedere student en kost helemaal niks. Dus mocht je nou een hele dag je vrienden hebben staan aanmoedigen dan is dit een perfecte afsluiting van een geweldig weekend. 
----- English -----
Registrations are open!
Dear Punchers,
This year the 50th edition of the Batavierenrace will take place! The Batavierenrace is the largest relay race in the world, in which participants run from Nijmegen to Enschede. This race will be concluded with the largest student party in the Benelux, the Batavierenfeest. This is a party that is free and open to every student!
This special edition will be held on April 29 and 30. And ofcourse, Punch will be there as well! The BaKo is busy organizing this weekend and will announce its theme soon. If you are interested in participating, join the whatsapp group via this link and come train with us on Tuesday evening at 6 o'clock! If you are completely convinced and want to join us in this race, sign up via this form! This event will cost 50 euros at max.
If you want to know more about the Batavierenrace itself, visit the site of the Batavierenrace or read more below! If you have any questions, you can always contact the BaKo!
We are really looking forward to it and hope to see you at one of the training sessions!
Love, BaKo '21-'22
Extra information Batavierenrace:
In 1972, some students from Nijmegen returned from a relay race in Sweden so enthusiastically that they wanted to organize an event like this in the Netherlands as well. Following the example of the Batavians, who descended the Rhine on rafts in 50 BC, the same route was chosen for the Batavierenrace: from Nijmegen to Rotterdam. In 1973 about 600 students took part in the first Batavierenrace. The Batavierenrace owes its name to this first race, but the route has been moved due to infrastructural problems. Since 1974, the athletes have been running from the University Sports Center Nijmegen, via Germany and the rustic Achterhoek to the campus of the University of Twente. Apart from a few minor changes, the route has remained almost the same since 1974.
Still every year in April or May, some students organize this race, which is the largest relay race in the world. The 50th edition of the Batavierenrace will start on Friday evening, April 29, 2022. The route starts from the center of Nijmegen, goes on via Germany, the quiet Achterhoek and the Oude Markt in the heart of Enschede and ends on the campus of the University of Twente.
The total walking distance is more than 175 kilometers and is divided into 25 stages (16 men's and 9 women's stages). About 8,500 athletes participate each year, all students; It is to this enormous number of participants that the Batavierenrace has been listed in the Guinness Book of Records for many years.
In short, an annual mammoth event with a unique character: a mixture of top sport and toiling recreation!
The Batavierenrace is a unique and fun event that deserves to be in the spotlight. In previous years, reports about the Batavierenrace were broadcast by regional and national radio and television broadcasters, for example, and the race is featured annually in De Gelderlander and many other printed media.
Extra information Batavierenfeest:
After the finish of the Batavierenrace around 6 p.m., the largest student party in the Benelux takes place on the campus of the University of Twente in Enschede. It is estimated that there are 13,000 students going crazy in various locations of the campus! This party is accessible for every student and is free. So if you've been cheering all day, this is the perfect end of a great weekend.