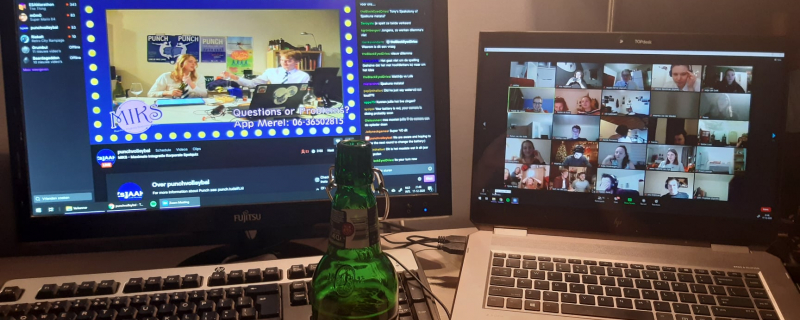 Gepost op: 17-12-2020
In the stressful week before the holiday break, a little unwinding with Punchers is always appreciated. This was certainly the case at this year's SJAAK-event, or should I rather say: ZsjAAK! At the wonderfully orchestrated pubquiz-o-rama called MIKS, a whopping amount of 50 Punchers got to make acquaintance in the many different rounds.
MIKS, the "Maximale Integratie Korporale Spelquiz" involved an emoji round, a tea bag round, a music round, a meme round (in which we got to make our own meme), a puncher round AND an integration round. The last one consisted of all the funfacts people submitted about themselves, and it was our task to connect them to the right person. Each round the teams were miksed, so we got to see a few new faces every once in a while. Had you been playing MIKS right, you would have asked everyone for their funfact at the start of each round, so you could cash-in on the integration round.
After each round, everyone went back to the main zoom, where even more integration happened, namely: feuten! In other words: convincing the board members to down their drinks and making the others watch. I will just say this: prominence was shown.
Along with a zoom, the ZsjAAK hosted a Twitch stream in which 2 ZsjAAKies introduced each round in a very fraternal way. They for example responded well to the word "vertical river" (exhibit B) and were dressed sharply. With a little help of their committee papa & mama, everything went by very smoothly. To conclude, I think a 'Vo is deserved for these tie-wearing frats.
- PPK