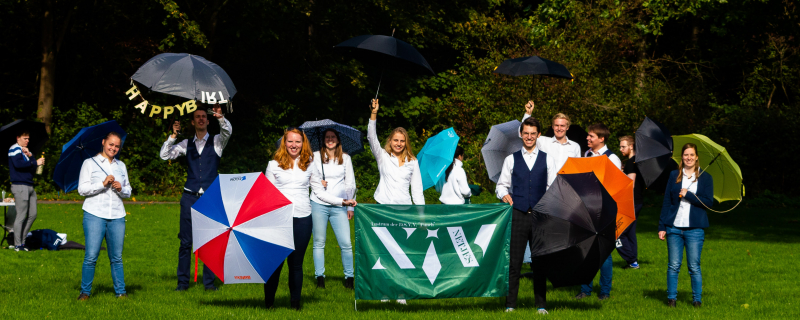 Gepost op: 29-10-2020
18 oktober 2020 is de Delfste studentenvolleybalvereniging "Punch" 70 jaar oud geworden,  en dat mocht gevierd worden! In aanloop naar de verjaardag heeft de lustrumcommissie, de LuCie, een week verschillende activiteiten georganiseerd om de vereniging in het zonnetje te zetten. En dit allemaal op een wijze zoals nooit eerder vertoond, want ... tja ... iets met een pandemie ofzo. 
De lustrumweek werd op maandag 12 oktober afgetrapt met een champagnelunch. Leden waren uitgenodigd om buiten, onder het genot van een glaasje champagne en lekker broodje, alvast de verjaardag van Punch te vieren. Op woensdag 14 oktober mocht een slect aantal leden naar de tosti-lunch om daar heerlijke deluxe tosti's zoals een pizzatosti naar binnen te werken. De rest van week verliep online. Donderdagavond 15 oktober had de LuCie een escaperoom opgesteld, die iedereen thuis vanuit zijn huiskamer kon oplossen door puzzels op te lossen en de antwoorden door te sturen. Vele teams deden mee, maar er kon maar een de snelste zijn met een tijd van 1 uur en 43 minuten. Vrijdagavond stond in het kader van het goede doel. Met bieren voor spieren konden leden thuis borrelen, en voor ieder biertje kon er wat gedoneerd worden. Zo werd een bedrag van 517.07 euro verzameld voor Spieren voor Spieren. Als laatste activiteit was de museumtrip, waar leden vanuit Delft op de fiets vertrokken naar het Kunstmuseum Den Haag.
De lustrumweek was wat anders dan normaal, maar ondanks alles heeft de LuCie "Netjes" een leuke week aan activiteiten weten neer te zetten. Maar dit is nog niet het einde, in de week van 17 april komt namelijk 'Mooi Weer' een lustrum. 
On 18 October 2020 the student volleyball association "Punch" aged 70 years old, something which had to be celebrated. In anticipations of Punch's birthday the lustrum committee (LuCie) organized a week full of activities. All of this was implemented in a way like never before, because … well … a global pandemic or something. 
The lustrumweek started on Monday October 12 with a champagne lunch. Members were invited to enjoy a glass of champagne and deluxe sandwich outside while also celebrating Punch's birthday. On Wednesday October 14, a limited amount of members were invited to join the tosti-lunch, the Dutch grilled-cheese sandwich. Here people could eat some delicious variants of the regular tosti, such as the pizza-tosti.   The remainder of the week was organized such that everything could be done online. On Thursday 15 October, the LuCie organized an online escape room were people from their couches at home could solve multiple puzzles, send their answers and by doing this traverse through an online adventure. Many teams joined, but only 1 could be the quickest with a record time of 1 hour and 43 minutes. On Friday evening, an event in context of charity was organized. In 'Bieren voor Spieren' members could have drinks at home, and donate a small amount to the charity 'Spieren voor Spieren' per drink. This ultimately lead to a total donation of 517,07 euro. The final activity was a 'Museumtrip', where members on Sunday afternoon travelled by bike to the Kunstmuseum in The Hague and could gaze at art. 
This lustrumweek was a bit different from usual, but despite everything the LuCie was able to organize all events in a proper way. However, this is not the end yet, as starting on April 17th a 'Mooi Weer' lustrum will be celebrated.