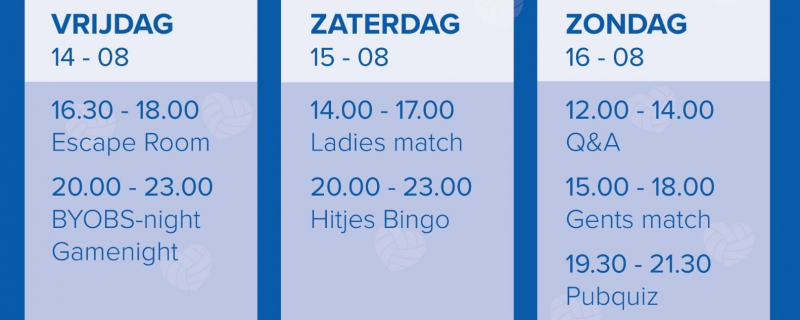 Gepost op: 14-08-2020
-- For English scroll down -- 
Vandaag begint de OWee! Dit gaat er anders aan toe dan normaal. Maar onze OWeeCis (de OWee commissie) heeft er hard aan gewerkt om een liefdevol programma samen te stellen. De eerste drie dagen van de OWee zijn volledig online. 
We beginnen vanmiddag met een Escape Room, waarbij jij kan bepalen wat de persoon in de Escape Room moet doen terwijl je steeds meer over Punch te weten komt. We sluiten de dag af met een klassieke Punch activiteit een spelletjesavond. Tijdens deze avond kan je online spelletje spelen met Punchers en als je vragen hebt kan je deze makkelijk stellen terwijl je ze helemaal inmaakt bij je favoriete spel. 
Zaterdagmiddag doen we even rustig aan. Je kan lekker onderuit gaan zitten en genieten van een oefenwedstrijd van onze hoogste dames teams. Schrik niet van het niveau, bij Punch hebben we elk jaar ook een beginnersteam. Tijdens onze open trainingen wordt je ingedeeld op je eigen niveau door onze Technische Commissie (TK). De oefenwedstrijd wordt van commentaar voorzien door onze eigen Radiomannen. Deze mannen zijn doorgewinterde Punchers, dit is het moment om te vragen hoe de bar nou eigenlijk is gebouwd of hoe goed je nu moet kunnen volleyballen om uiteindelijk in Heren 4 of misschien wel hoger te komen! Maar Punch is meer dan alleen volleybal en we sluiten de avond af met een ware Hitjes Bingo verzorgt door onze huis DJ: DJ Tom!
Op de zondag ben je waarschijnlijk al meer te weten gekomen over alle verenigingen en heb je waarschijnlijk een hoop vragen. Natuurlijk kan je deze vragen via de app, door te bellen naar +31624467580 of door een mailtje te sturen naar oweepunch@gmail.com. Maar van 12.00 tot 14.00 uur beantwoorden we tijdens de Q&A live al je vragen vanuit onze eigen bar. Hierna kan je weer rustig achterover gaan zitten en genieten van een volleybalwedstrijd op nationaal niveau, onze hoogste heren teams gaan de strijd met elkaar aan! Ook deze wedstrijd wordt van commentaar voorzien door de Radiomannen. We sluiten de avond traditiegetrouw af met een Pubquiz, want wedstrijdjes daar houden Punchers wel van.
De rest van de week kan je ons tegenkomen op de infomarkt. Tijdens deze infomarkt kan je ook een kijkje nemen in X1. Hier zullen Punchers al hun volleybalskills laten zien!
Heb je interesse gekregen in Punch na de OWee vul dan dit formulier in: https://forms.gle/esU5fjhK8JpuJcfe6 . Je krijgt dan meer informatie over de open trainingen, lid worden en ons ledenstopbeleid. 
In de weken na de OWee kan je namelijk zelf komen trainen bij Punch, zodat jij verder kan ontdekken of Punch een vereniging is voor jou en wij jou kunnen indelen in een team. Deze trainingen zijn geheel vrijblijvend, maar vanwege alle maatregelen moet je je hier wel voor inschrijven via ons interesse formulier.
We hopen iedereen snel te zien in de zaal!
--
Today is the first day of the OWee! This week will be different from what we are used to. However, our OWeeCis (the OWee committee) worked hard to put together a lovely program. The first three days of the OWee are online. Afterwards, all new students get the chance to explore Delft for one day next week.
This afternoon, we will start with an Escape Room. You will be able to give directions to the person in the Escape Room, this person will carry out your assignments to solve the Escape Room and you will learn more about Punch at the same time. We end the day with a classic Punch activity, a game night. During this evening you can play online games with Punchers. If you have any questions you can ask them while you beat them in your favorite game: Skribble, Curve fever, Codenames, Backup and Tetris.
We will take it easy on Saturday afternoon. You can sit back and enjoy a practice match of our highest women's teams. Don't be scared by the volleyball level! Every year we have a beginners team aswell. During our open trainings our Technical Committee (TK) will decide what team suits your skill level. The practice match will be covered and commented by our own Radio Men. These men now everything about Punch, so now is the time to ask how the bar was actually built or how good your volleyball skills have to be at the moment to eventually end up in Gens 4 or maybe even higher! But Punch is more than just volleyball and we end the evening with a Music Bingo provided by our own DJ: DJ Tobrec!
Sunday you probably have learned about all the associations and you will have a lot of questions. Of course you can ask these questions via the app, by calling +31624467580 or by sending an email to oweepunch@gmail.com, but from 12:00h to 14:00h we answer all your questions live from our own bar during the Q&A. After this you can sit back and enjoy a volleyball match at national level, our highest men's teams will compete with each other! Once again, the Radio Men will cover this match. Traditionally, we end the evening with a Pub quiz, because Punchers like a little bit of competition.
The rest of the week you can meet us at the information market. During this information market you can also take a look in X1, where Punchers will show off all their volleyball skills!
If you are interested in Punch, please fill out this form: https://forms.gle/esU5fjhK8JpuJcfe6. This gives us the opportunity to send you some more information about the open trainings, becoming a member and our member limit policy.
In the weeks after the OWee you are welcome to play volleyball at Punch. During these weeks you are able to discover whether Punch is an association for you and we decide what team suits your skill level. These trainings are without any obligation, but because of all the precautionary measures you have to register for them via our interest form.
We hope to see everyone in the hall soon!