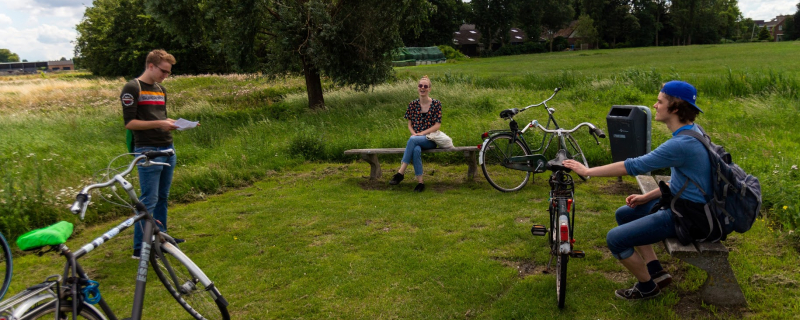 Gepost op: 03-08-2020
Zaterdag 11 juli was het tijd voor Punch haar allereerste fietsrally, de CovidQuiz on Tour! Dit evenement werd meesterlijk georganiseerd door de Tokolly Spies. Verschillende teams van 4 of 5 personen baanden zich een weg door de stad, loste onderweg puzzels op en en beantwoorden vele quizvragen. Muziek, zon, gesprekken tussen al lang niet geziene vrienden, er was genoeg van al het goede, inclusief bier en wijn!
Bij elke stop stond er een ToKo-lid klaar met je drankje en een vel papier met vragen. Er was een muziekronde, waarbij de deelnemers het nummer moesten raden aan de hand van een kort fragment van het intro; een emoji-ronde, waarbij ze de serie moesten raden aan de hand van een set emoji's; een nieuwsronde; een ToKo-ronde en natuurlijk een Punch-ronde!
Nadat de vragen waren ingevuld, kregen de teams een puzzel die de weg naar de nieuwe locatie prijsgaf. Deze waren soms net zo uitdagend als de quizzen… Onder begeleiding van het geweldige weer bereikten alle groepjes uiteindelijk de laatste stop, met net genoeg tijd voor een snel diner, gevolgd door een geweldige avond op het Pand!
De nieuwe BOOD (thema Dora en BOODts) heeft een Pand-avond op 1,5 m mogelijk gemaakt. Volgens de regels van de overheid moesten de Punchers bij binnenkomst een formulier invullen en en op afstand van elkaar aan tafels zitten. Niettemin werden bij sluitingstijd blije en tevreden gezichten gezien.
--
Saturday 11th of June it was time for Punch's first ever bicycle rally, the CovidQuiz on Tour! Masterfully organized by the Tokolly Spies, the event went very smoothly. Several teams of 4-5 people made their way through town, filling in various quizzes and puzzles. Music, sun, conversations between long-time-no-seen friends, there was ample of every good thing, including beer and wine!
Awaiting you at every stop there was a ToKo member, ready with your complimentary drink and a sheet of paper with questions. There being a music round, where the participants had to guess the song by a short fragment of its intro; an emoji round, where they had to guess the series by a set of emoji's; a news round; a ToKo round and of course a Punch round!
Once the questions had been filled in, the teams obtained a puzzle, which marked the way to the new location. These were sometimes just as challenging as the the quizzes… Accompanied by the great weather, all groups eventually made it to the final stop, with just enough time for a quick dinner, followed by an amazing night at the Pand!
Thanks to the newest installment of the BOOD (themed Dora and BOODts), a Pand night at 1,5 m was made possible. All according to government rules, the Punchers had to fill in a form when entering and sit spaced apart at tables. Nonetheless, happy and content faces were seen upon closing time.